Christopher Edelman
Physician Assistant Certified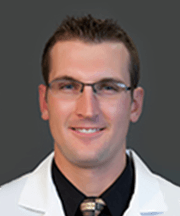 Training
Lock Haven University with a Master's degree as Physician Assistant
National Commission of Certified Physician Assistants: certified since 2012
Chris has been working with Dr. Kilgore since 2012. He assists Dr. Kilgore with hip and knee replacements, with a focus on minimally invasive techniques. He evaluates, diagnoses, and treats patients in the inpatient and outpatient setting.
Chris also has been trained to perform ultrasound guided injections for intra-articular knee injections for patients with osteoarthritis. He also utilizes ultrasound for trochanteric bursitis injections. Ultrasound is a valuable tool for increased accuracy, efficacy, and a less painful experience for the patient.